How Long Does It Take to See the Final Results of a Rhinoplasty?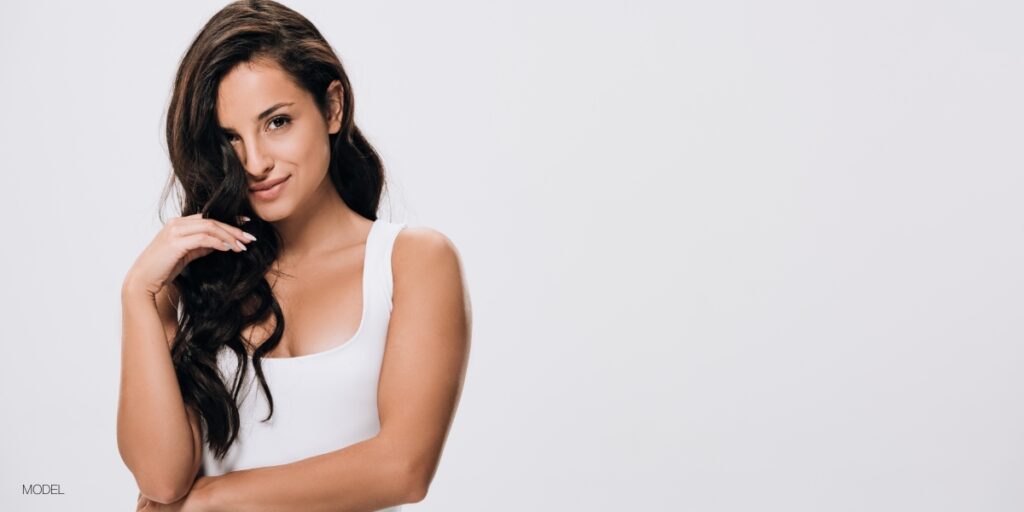 You may have mixed emotions of anxiety and excitement about a rhinoplasty because it will reshape your nose and affect your facial appearance. An understanding of the progression of how your nose will heal and achieve its final contour can increase your confidence about the procedure and your desire to balance your facial features. We will explain how long it takes to see final rhinoplasty results and include a timeline of what to expect along the way.
When Will You See Rhinoplasty Final Results?
It takes about a year to see the final results of a rhinoplasty, although you will notice subtle changes in three to four weeks. Improvements in nose contour occur gradually because the soft tissues remain swollen longer than soft tissue in other parts of your body. Although most of the swelling improves in two to four months, swelling in thicker areas of the nose, including the tip, takes a year or longer to resolve.
What Is the Timeline for Seeing Rhinoplasty Results?
The timeline for seeing rhinoplasty results includes initial swelling as your body's reaction to surgery. You will also experience lingering swelling from fluid buildup beneath your skin after raising your skin and reshaping cartilage to achieve your new nose shape. Your body will gradually absorb the fluid in about a year.
Factors that will affect your timeline include:
Your skin's thickness
Your treatment plan
Your physical condition and body's healing response
Adhering to your plastic surgeon's post-surgical instructions
What Can You Expect After Rhinoplasty and During the Following Months?
Week 1
You will experience significant swelling during the first week after rhinoplasty. A nose splint and surgical tape will protect and support your nose and help it maintain its new shape—plan to limit your activity for two weeks.
How to minimize swelling:
Apply cold packs as much as possible for the first 48 hours
Keep your head elevated above your heart while you rest
Avoid bending and lifting
Weeks 2 and 3
Swelling will decrease rapidly during the second and third weeks after surgery, and your soft tissues will continue to heal beneath the skin. By the end of the second week, you can resume nonstrenuous activities.
How to promote healing and fluid reduction:
Drink plenty of water to flush out fluid beneath your skin
Avoid strenuous work or exercise
Keep your stitches moist with ointment as your doctor instructs
Weeks 4 Through 6
Your nose shape will become more defined as up to 90 percent of the swelling resolves unless your skin texture is thick. You will see little evidence that you had rhinoplasty.
Promote healing by avoiding the following:
Rigorous exercise, including weight lifting
Activities that increase your risk of falling or bumping your nose
Sun exposure
Week 7 Through Month 5
Refinements in your nose contour will continue. Although you may not notice much swelling, it will continue to decrease. Your tissue and skin will continue to adapt to your nose shape as swelling decreases.
Minimize the risk of altering your nose shape by avoiding these activities:
Heavy weight lifting
Contact sports
Recreation or activities at home that increase your risk of falling or bumping your nose
Months 6 Through 12
Subtle changes may continue to occur six to 12 months after rhinoplasty as cartilage and bone settle and skin conforms to your reshaped nose. Most people see full rhinoplasty results after 12 months as your nose tip refines. Each person's recovery is different, so ask your doctor about strenuous activities or sports you want to resume before engaging in them.
How Can You Get Predictable Results with Rhinoplasty?
You can get predictable results by choosing a board-certified plastic surgeon specializing in rhinoplasty. A board-certified doctor uses advanced surgical techniques and post-operative care for your safety, comfort, and aesthetic results that improve your nose shape and facial appearance.
During a consultation, ask the doctor about the following:
Their experience with rhinoplasty procedures
The surgical technique recommended for you
Showing you before and after photos of their patients
Request a Rhinoplasty Consultation
If you live or work in the Omaha area, are considering rhinoplasty, and want to learn more about it, schedule a consultation with board-certified plastic surgeon Dr. Nagi Ayoub of Westfield Plastic Surgery Center. He has over 20 years of experience in a full range of facial procedures, including rhinoplasty. Dr. Ayoub's goal is to help you achieve your desired appearance while using his artistic ability to reshape your nose, complement your facial features, and achieve natural-looking results.
---