Gynecomastia Surgery Omaha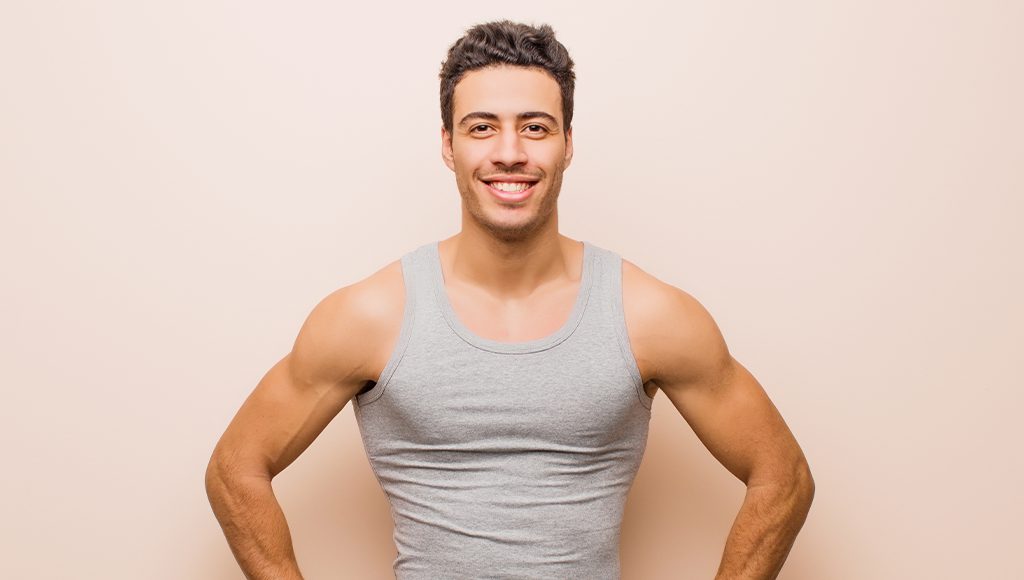 Gynecomastia is the enlargement or overdevelopment of male breasts. Surgical reduction of male breast tissue is a frequently requested surgery among men of all ages. It can help with your self-confidence and enable you to participate in activities you may avoid now due to embarrassment.*
Gynecomastia has many causes, including but not limited to:
Hormonal changes
Heredity
Certain prescription medications
Marijuana
Anabolic steroids
Excessive alcohol use
Being overweight can lead to enlarged breasts in men, but true gynecomastia is a combination of excess fat and glandular tissues (hard lumps felt most commonly beneath the nipples).
How is Gynecomastia Diagnosed?
Prior to surgery, you will have an examination and blood tests to try to determine the cause of your enlarged breasts. It is imperative that any causative agents are discontinued to prevent recurrence of the problem. You may be concerned you have breast cancer, which is rare in men but will be tested for by sending excised tissue to the pathologist for examination.
What Will Happen During the Procedure?
Gynecomastia surgery involves a combination of techniques to contour your chest. These include:
Breast biopsy
Skin resection
Many Omaha patients are concerned that the results will be similar to a woman's breast reduction surgery, but the techniques and results are completely different.
On the day of your surgery, you will meet Dr. Ayoub at an outpatient surgery center. The operation will be performed under general anesthesia and Dr. Ayoub will:
Make a horizontal incision along the bottom of your breasts or along the bottom of your areola.
Reduce fat using liposuction
Excise tissue and skin to smooth the contour of your chest.
Close the incisions to minimize scarring.
You will need to have a family member or friend drive you home and stay with you for the first 24 hours after surgery to make sure that you are recovering well.
Will Gynecomastia Surgery Result in Scarring?
Depending on the amount and location of tissue being reduced, you may have incisions along the bottom of your areola or horizontal incisions along the bottom of your breasts. Your scars will be long-lasting* and take about a year to fade and mature. The areolar scars blend in very well and are not noticeable a few months after surgery. Liposuction scars are very small and heal quickly. Your more masculine and well-proportioned chest will be a long-lasting result as long as you maintain a healthy lifestyle and avoid any known precipitating causes.*
How Long Will It Take to Recover from Gynecomastia Surgery?
Gynecomastia surgery will take 4-6 weeks to recover from surgery fully. However, Omaha patients can return to work after 1-2 weeks of healing.* You may have drainage tubes to remove excess fluid for the first week of your healing. During this time patients commonly experience some:
To control swelling after surgery, you will need to wear a compression garment for several weeks after surgery.* Please contact your plastic surgeon immediately if you experience severe pain, swelling, or bruising.
---
You're in Good Hands with Us
Are you ready to feel like the best version of yourself? Westfield Plastic Surgery Center offers the most effective procedures to enhance your look. Through our patient rewards program, our clients receive discounts on treatments scheduled within one year of their initial treatment. To find out more about gynecomastia, schedule a consultation at our Omaha office.