PRO-NOX Pain Management System
At Westfield Plastic Surgery Center & Medispa, our centric focus is on patient comfort and satisfaction. We are consistently looking for new and improved ways to provide patient comfort and to ease any pre-procedure anxiety. We are proud to announce the latest analgesic technology that safely offers immediate relief of pain and anxiety during procedures – the PRO-NOX™, a Nitrous Oxide and Oxygen Analgesia System.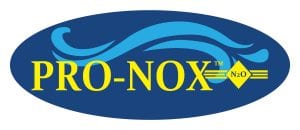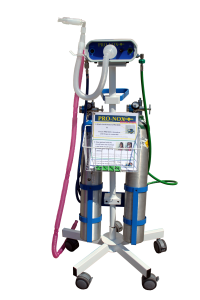 What is Pro-Nox™?
Pro-Nox™ is a patient-controlled inhaler that delivers a combination of 50% oxygen and 50% nitrous oxide. Pro-Nox™ takes effect in seconds, offering you immediate relief from pain and anxiety. It wears off in 5 minutes allowing you to drive home with no downtime.
Pro-Nox™ is very different than the nitrous oxide that is administered by a dentist, a dentist administers nitrous oxide solely which is considered anesthesia and the patient cannot control how much nitrous they intake. Pro-Nox™ is a patient-controlled analgesia that allows the patient to control exactly how much or little relief of pain is needed.
What treatments can be used with Pro-Nox™?
Pro-Nox™ is ideal for an aesthetic treatment that you feel uncomfortable during or anxious about beginning. Patients often request Pro-Nox™ for treatments like:
Botox or Dysport
Fillers
Kybella
Ultherapy
Microdermabrasion
Microneedling
Peels
Laser treatments
Ear Lobe repair
Recovery after Pro-Nox™ use
One of the many benefits of using the Pro-Nox™ system for pain relief is the fact that recovery is quick and easy. Many cosmetic procedures can require strong pharmaceuticals to be administered either topically, orally, by injection or through an IV. Each of these methods requires additional safety precautions such as limiting certain activities and observation by either a medical professional or family member. After procedures with this system, patients may be asked to stay in the clinic for approximately fifteen minutes to ensure all gases are out of their system. Once cleared they are completely safe to operate a car or other machinery.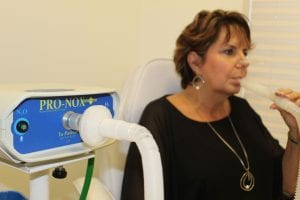 Candidates for Pro-Nox™
Almost anyone can use the Pro-Nox™ system for pain relief during cosmetic procedures however, there are some pre-existing conditions that might preclude some patients. As with all medical procedures, patients should discuss any prior illness or injuries to ensure that treatment with nitrous oxide is safe.
Why Should I Choose Pro-Nox™ For My Procedure?
Pro-Nox™ has become one of the most requested adjunct services. Patients each have personal reasons for desiring sedation in addition to local anesthetic, but most relate to the desire for maximum comfort on the journey to a better face or body. Physical discomfort is only one aspect of cosmetic treatments. It is also common for patients to experience anxiety, regardless of their excitement about achieving aesthetic goals. Pro-Nox™, in its delivery of nitrous oxide, puts a substantial degree of this matter into the patient's own hands. If you have a sense of anxiety along with your excitement about an upcoming cosmetic procedure, or you have been procrastinating in making that appointment, Pro-Nox™ may be the catalyst that helps you make the first step in your journey in bringing out the best possible version of you.
---
You're in Good Hands with Us
Are you ready to feel like the best version of yourself? Westfield Plastic Surgery Center offers the most effective procedures to enhance your look. Through our patient rewards program, our clients receive discounts on treatments scheduled within one year of their initial treatment. To learn more about how this analgesic system can help you, schedule a consultation at our Omaha office.