Laser Hair Removal Omaha
You wax, pluck, shave, even use more extreme chemical depilatories like Nair to get rid of unwanted hair. The problem is that the hair you removed continues to come back, sometimes in greater numbers. Laser hair removal is one of the few ways to remove hair for good, saving you valuable time.*
How Does Laser Hair Removal Work?
Laser hair removal uses a highly concentrated beam of light to target unwanted hair in almost every area of the body. Westfield Plastic Surgery Center provides patients with the latest technology by Vectus, the Lightsheer laser, for lasting laser hair removal. The Lightsheer Laser is a handheld diode laser that emits light that is absorbed by hair follicles. This intense heat damages hair follicles and prevents future growth.
Am I a Good Candidate for Laser Hair Removal?
While laser hair removal is a safe procedure and Omaha patients experience very little discomfort during and after treatment*, there are certain conditions that can hinder results. Laser hair removal works effectively for patients who are:
Fair-skinned
Not tanning (spray, naturally, or at a tanning booth)
Medium or dark hair color.
While this procedure is safe for any patient, the results will not be as effective.*
What Will Happen During the Procedure?
Laser hair removal is a safe and non-invasive procedure that will take between a few minutes and an hour to complete.* During your treatment Dr. Ayoub will:
Adjust the handheld Lightsheer laser to your specific needs.
Apply the laser to your hair follicles. It will initially cool your skin prior to treatment to reduce discomfort.
Target specific hair follicles for a fraction of a second to prevent regrowth. The laser will continue to cool your skin during this step.
The length of your procedure depends on the amount of hair that you would like removed. Larger areas with more hair will take longer and patients will need repeated treatment to take effect.
How Many Laser Removal Treatments Are Needed?
Each patient has a different pattern of hair growth and response to laser hair removal. Factors that influence the number of sessions needed are:
Thickness of hair
Hair color
Skin pigmentation
While most patients will require six to eight treatments to remove all hair completely, others may need more or less depending on the results that they'd like to achieve.* Treatments are scheduled every four to eight weeks, allowing all hair follicles to complete their growth cycles. This allows Dr. Ayoub to treat each follicle individually for long-lasting hair reduction.
Recovering From Laser Hair Removal
As a non-invasive procedure, the results of laser hair removal will be visible immediately after treatment.* There will be no downtime and minimal discomfort associated with the procedure.* Some Omaha patients may experience:
Mild redness
Temporary swelling around treated follicles
Change in skin pigment that last a few days
While most patients experience mild or no symptoms, there is a very small risk of more serious reactions such as blistering, irritation, and scarring.* However, the majority of these issues occur when patients receive treatment from an inexperienced practitioner.
Laser Hair Removal Pricing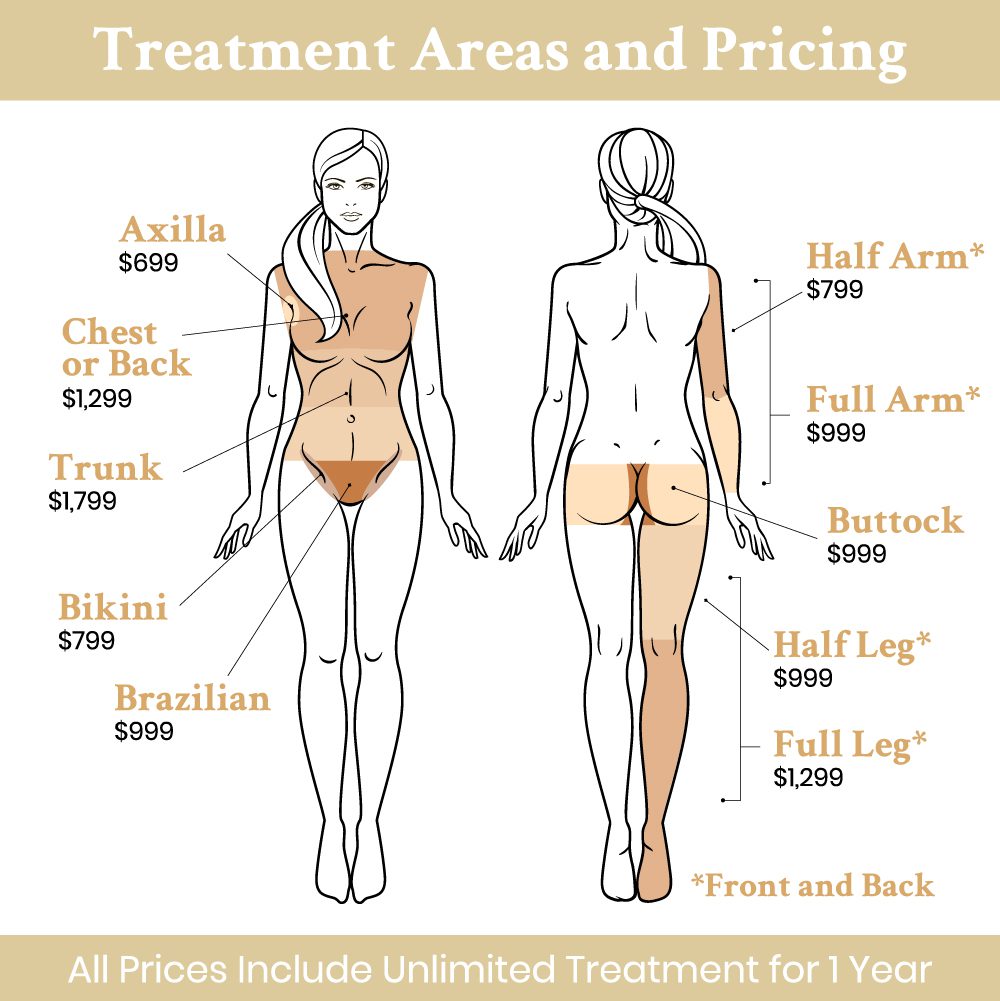 To learn more about our laser hair removal packages and pricing, please visit our online store.
---
You're in Good Hands with Us
Are you ready to feel like the best version of yourself? Westfield Plastic Surgery Center offers the most effective procedures to enhance your look. Through our patient rewards program, our clients receive discounts on treatments scheduled within one year of their initial treatment. Schedule a consultation at our Omaha office to remove unwanted hair with laser hair removal.